The Japanese 50-mm smoke grenade is a 19-ounce cylindrical projectile similar to the Type 91 high-explosive grenade, and may be thrown by hand or fired from 50-mm grenade dischargers.
This grenade may be identified readily by its smooth, unpainted brass body. It is filled with 6.09 ounces of white phosphorus scattered by a bursting charge of explosive after the fuze has been activated. The fuze, which projects from one end of the grenade, is covered by a brass safety cap, which is held in place by a two-pronged safety pin. The propellant unit is a cylindrical steel projection at the other end of the grenade, and has six equally spaced gas ports around its side. A percussion cap is visible on the base of this projection.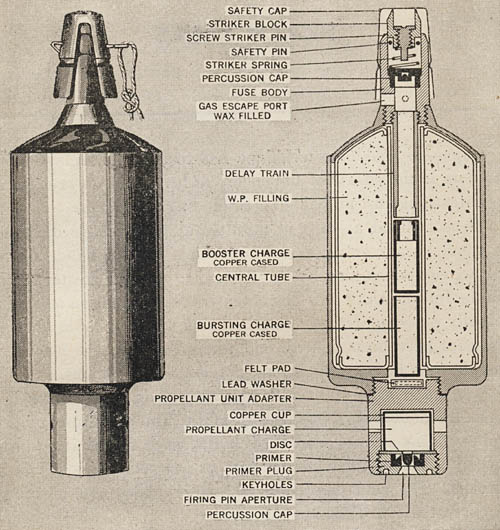 To arm the grenade for firing, it is first necessary to screw down the striking pin. Before the grenade is inserted into the discharger, the safety pin is pulled, leaving the brass safety cap loosely in place. When the grenade is discharged, the striker sets back on the fuze percussion cap, which ignites a delay powder train. This burns down to a booster charge, which ignites the bursting charge, thus detonating the grenade and scattering the white phosphorus.
When the projectile is used as a hand grenade, the fuze is ignited by hitting the striker against a hard object, such as a steel helmet, before the grenade is thrown.