Study of recently captured Japanese clothing indicates that continued efforts are being made to make summer and tropical uniforms more comfortable for the troops. By 1942, both summer and tropical cotton twill coats had a flap under each armpit. This flap may be buttoned open to give increased ventilation while working or marching. See illustration on next page.
Uniform coats manufactured in 1943 are provided with an additional ventilation feature in the form of moon-shaped openings in the coat armpits. These openings lack any closure, since there is little danger of mosquitoes attacking at these points. It appears that the 1943 cotton twill coats are issued as both summer and tropical coats, and that minor design differences between the two types will no longer be incorporated.
It is significant that the addition of these features, together with the introduction of a new extra-lightweight tropical uniform, provide Japanese troops in the Pacific and CBI theaters with uniforms ill adapted to impregnation against gas attack.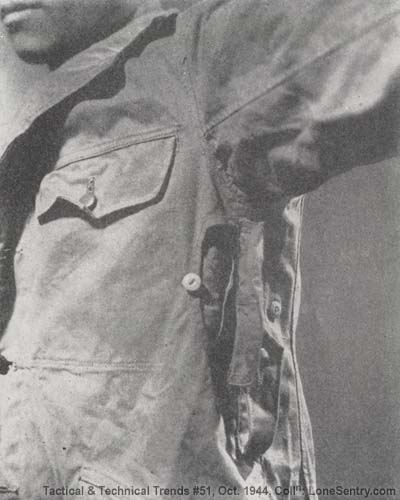 Japanese tropical uniform coat with underarm vents.