A late model German 75-mm assault gun, only known model of this type of weapon mounted on the Pz. Kpfw. IV chassis, has been examined by Allied ordnance experts. It is designated as the 7.5-cm Stu. K. 40 (L/48).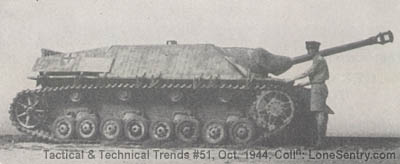 The 7.5-cm Stu. K. 40 (L/48) with one-piece cast mantlet.
Of 48 calibers in length, the gun has the same performance as the 7.5-cm Pak 40. The motor carriage. with the same performance as the Pz. Kpfw. IV, is designated Stu. G. IV für 7.5-cm. Stu. K. 40 (L/48).
This gun is characterized by heavy frontal armor and a low silhouette, typical of assault guns in general. The mantlet is cast in one piece, contrary to the usual German practice of welding. It covers the recuperator and is rounded instead of being in the familiar keystone shape. The brackets on the sides, looking like oversize fishhooks, are for attaching skirting armor. The wrinkled-canvas appearance of the sides of the vehicle is given by Zimmerit, a composition intended to prevent adhesion of magnetic mines.