a. Description
The decontamination package shown below is intended for use by the individual soldier in destroying liquid vesicants that may have come in contact with his skin. The package consists of a carrying bag or pouch, a can of decontaminating agent, and a roll of absorbent cotton. The decontaminating agent has been identified as 17.8 percent sodium beta naphthalene sulfonchloramide and 82.2 percent clay. The active chlorine is 2.66 percent on the bone-dry basis. The active agent is apparently rather stable, as no corrosion was evident on the particular metal can examined. Decontamination is accomplished by mixing the agent with water and applying it wet to the skin with absorbent cotton. Approximately 45 grams (1.6 oz) of the decontaminating agent and 2.5 grams (0.09 oz) of the absorbent cotton are supplied. The can is of metal with a screw top and measures 3.1 by 2.3 by 1.2 inches. The carrying bag is of cloth, with cloth tie-strings and a fiber fob. The entire package weighs 95 grams (3.3 oz). The translation of the inscription (see sketch) on the front of both the bag and can is "Decontamination Kit."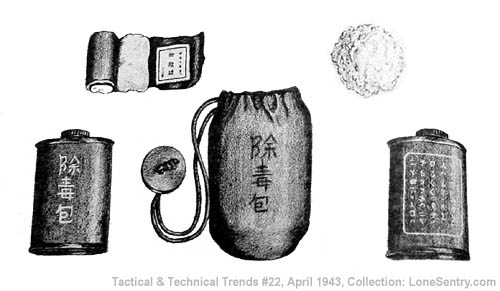 b. Directions for Use
The label on the reverse side of the can gives instructions for decontamination, in substance as follows:
(1) As quickly as possible, tear off the absorbent cotton in the enclosed package, a little at a time, and lightly blot or soak up the chemical which is present on the skin.
(2) Undo the screw top of the can and pour in some water. Close the opening with the finger, and shake. Use the contents while in a muddy condition.
(3) Spread the decontaminant over the skin and gently rub it in.