A description has been received of a light armored OP vehicle (Sd Kfz 259) mounted on a wheel-and-track suspension. (See accompanying sketch.)
The four wheels can be raised or lowered by means of arms, so that the vehicle may run on its tracks over rough ground, or on its wheels along roads. Front, side, and rear plates are sloped to the vertical, while the top is horizontal. An observation hatch is fitted in the roof; slit openings, together with slit opening flaps, are located in the sides and front. A door is fitted in the back for the crew, while a small door, probably for the driver, is to be found on the right side.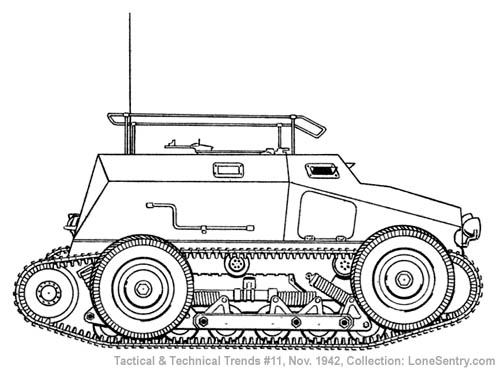 LIGHT ARMORED O.P. VEHICLE
Radio is fitted for communication with the gun positions, but there is no evidence of armament or optical instruments, although it has been reported that a BC scope is fitted. This instrument has an azimuth scale.
There is a crew of five, believed to consist of a battery commander, radio operator, observer, chauffeur, and one NCO.