Technical Manual, U.S. War Department, October 1, 1944
Chapter X: Equipment
Section VIII: Tentage
1. GENERAL. Although the Japanese have excellent octagonal tents, very little use is made of tentage in training or in the field, aside from shelter-half tents. Tents are considered necessary only for medical units and field hospitals, or for troops in regions where other shelter is not available. In inhabited regions, troops are billeted in houses or other buildings; in jungles, native huts frequently are built as soon as the situation becomes sufficiently stabilized. The Japanese are unable to improvise shelters in cold barren regions and therefore house large numbers of men in tents. Even there, every effort is made to bring forward building materials in order to get the men from under canvas as soon as possible.
a. Octagonal tent. The octagonal tent ordinarily houses from 15 to 20 men, although the manual states that 40 can be accommodated in the tropics and 36 in cold regions (fig. 406). Pyramidal in shape, it is made of comparatively lightweight, closely-woven duck. It is about 24 feet in diameter and uses a 12 foot 9 inch center pole.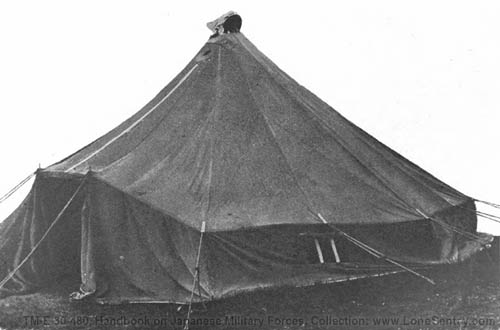 Figure 406. Japanese octagonal tent. (This complete tent weighs 118 pounds, without pegs and poles.)
b. Use of the octagonal tent in cold climates. (1) In cold regions a second tent of closely-woven, strong, white cotton is suspended inside the main tent and held in place by tie-tapes. The 6 to 8 inches of air space between the tent and tent liner gives good insulation against the cold, eliminates drafts, and provides a second shelter against moisture. Such a tent may be heated efficiently and economically because of these double walls which also permit the use of dim lights at night without danger of violation of blackout discipline.
(2) Two types of stoves are used in these tents, both with grates for burning coal or charcoal. One is a drum stove, 20 to 22 inches in diameter and 24 inches high, with a 6 inch opening in the center of the top for the stovepipe. The second type of stove is cast iron, about 2 feet high, 18 inches deep, and 14 inches wide. Both types can be broken down to save shipping space.
c. Use of the octagonal tent in the tropics. The same tent also is used in the tropics, though to a very limited extent, because native type thatch huts usually are considered superior. A mosquito netting takes the place of the inner liner in tropical climates.

Back to Table of Contents