Technical Manual, U.S. War Department, September 1, 1943
CARRIAGE, MOTOR, MULTIPLE GUN, M15A1
Technical Manuals: TM 9-710A, TM 9-1710, TM 9-1710C, TM 9-1711
Parts List: SNL G-102
Manufacturer: The Autocar Co.
Armament: One Gun, 37-mm, M1A2; two Guns, machine, cal. .50, HB, M2; one Rifle, cal. .30, M1903 with Launcher, grenade; one Gun, submachine, cal. .45; five Carbines, cal. .30, M1.
Ammunition: 1,200 rounds, cal. .50; 200 rounds, 37-mm; 540 rounds, cal. .45; 10 rifle grenades M9A1; 12 hand grenades.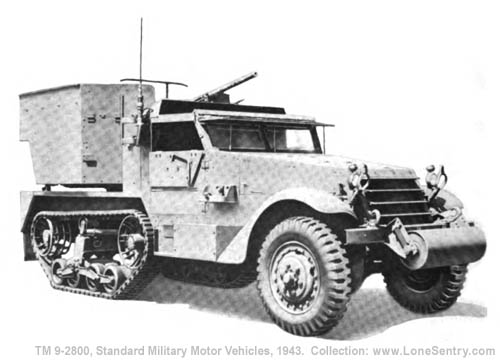 RA PD 309117
Classification: Standard
Purpose: To provide a highly mobile antiaircraft weapon.
GENERAL DATA
Crew
7
Weight
Net
(lb)
17,600
Payload
(lb)
2,500
Gross
(lb)
20,100
Shipping dimensions
(cu ft) 1,116
(sq ft) 131
Tires—Combat
Ply 12
Size 8.25 x 20
Tread, center to center (in.)
Front—64 1/2
Rear—63 13/16
Ground clearance
(in.)
17 1/8
Track width
(in.)
12 1/4
Ground pressure, tires
(lbs per sq in.)
33.5
Electrical system
(volts)
12
Capacities
Fuel, 80 octane gasoline
(gal)
60
Cooling system
(qt)
26
Crankcase (refill)
(qt)
12
Brakes
Hydraulic (Hydrovac)
Communication
Radio

PERFORMANCE
Maximum gradability
(percent)
60
Turning radius
(ft)
30
Fording depth
(in.)
32
Maximum vertical obstacle vehicle will climb
(in.)
12
Angle of approach
(deg)
Angle of departure
(deg)
Fuel consumption, average conditions
(miles per gal)
Cruising range, average conditions
(miles)
Maximum allowable speed
(mph)
45

| | | | | | |
| --- | --- | --- | --- | --- | --- |
| | 1st | 2nd | 3rd | 4th | |
| Cruising speed | 9 | 17 | 26 | 45 | |


ENGINE
Manufacturer
White
Model 160 AX
Type
In-line, 4 cycle
Number of cylinders
6
Displacement
(cu in.)
386
Governed speed
Not governed
Brake horsepower
148
Ignition type
Battery

ADDITIONAL DATA
Basic chassis
Carrier, personnel, half-track, M3

Back to Table of Contents