CHAPTER 2
GERMAN 88-MM ANTIAIRCRAFT GUN AND MOUNT
Section V
LUBRICATION
Paragraph

| | |
| --- | --- |
| Introduction | ............................................................................................. |

32

| | |
| --- | --- |
| Lubrication guide | ..................................................................................... |

33
32. INTRODUCTION.
a. Lubrication is an essential part of preventive maintenance, determining to a great extent the serviceability of parts and assemblies.
33. LUBRICATION GUIDE.
a. General. Lubrication instructions for this materiel are consolidated in the lubrication guides (figs. 54 and 55). These specify the points to be lubricated, the periods of lubrication, and the lubricant to be used. In addition to the items on the guides, other small moving parts, such as hinges and latches, must be lubricated at frequent intervals.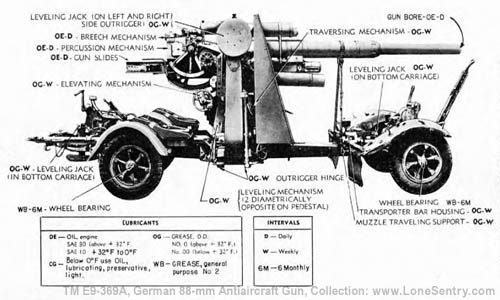 Figure 54 — Lubrication Guide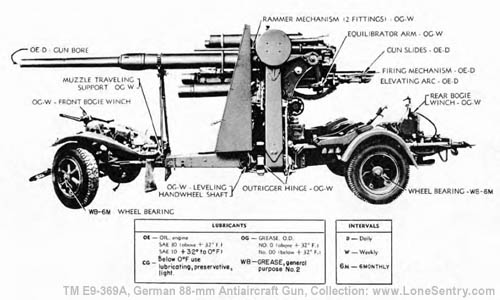 Figure 55 — Lubrication Guide
b. Supplies. In the field it may not be possible to supply a complete assortment of lubricants called for by the lubrication guides to meet the recommendations. It will be necessary to make the best use of these available, subject to inspection by the officer concerned, in consultation with responsible ordnance personnel.
c. Oilholes and lubrication fittings are painted red for easy identification.
d. American lubrication guns and couplets will fit most German lubrication fittings.
e. American and German lubrication fittings are interchangeable.
f. All gear cases should be disassembled, cleaned, and lubricated with GREASE, O.D. (seasonal grade), by ordnance personnel at the earliest opportunity available, and every 6 months thereafter.
g. Wheel Bearings. Remove bearing cone assemblies from hub and wash spindle and inside of hub with SOLVENT, dry-cleaning. Wet the spindle and inside of hub and hub cap with GREASE, general purpose, No. 2, to a maximum thickness of 1/16 inch only to retard rust. Wash bearing cones with SOLVENT, dry-cleaning. Inspect and replace if necessary. Lubricate bearings with GREASE, general purpose, No. 2, with a packer or by hand, kneading lubricant into all spaces in the bearing. Use extreme care to protect bearings from dirt, and immediately reassemble and replace wheel. Do not fill hub or hub cap. The lubricant in the bearings is sufficient to provide lubrication until the next service period. Any excess might result in leakage into the brake drum.
---